Your accommodation for your surf holidays!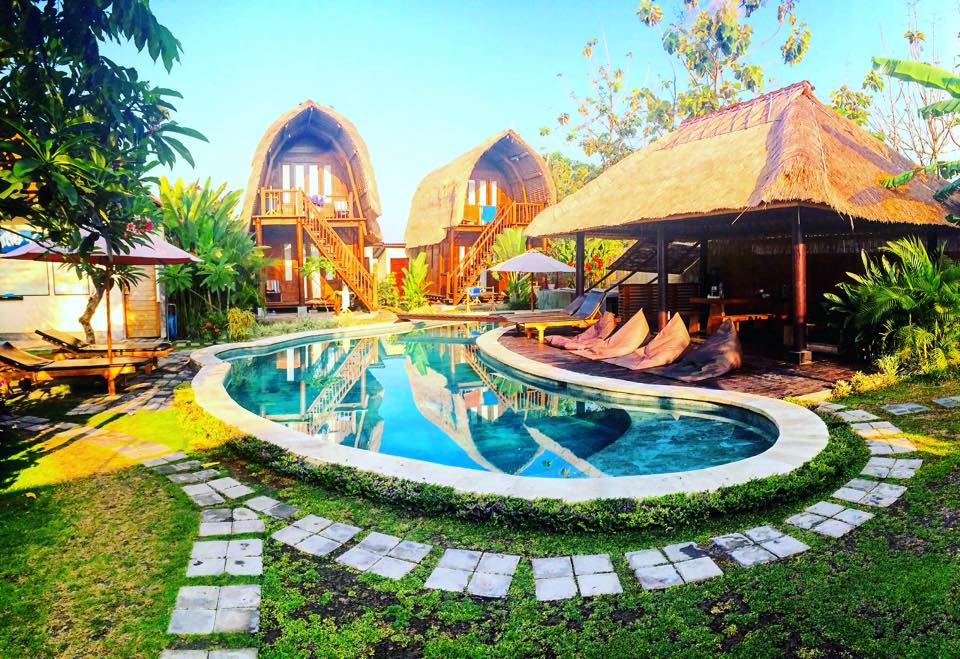 SurfWG Bali Surf Camp
Bali, island of the gods! Right here, a lovingly managed Bali surf camp is just waiting for you to spend your surf holidays here and visit: the Surf WG Bali.
Surf Holidays in beautiful Bali!
We found our place in the south-west of this wonderful island. The area of Berawa (Canggu) is outside of the crowded tourist centers and offers a more quiet way for a surf trip in asia. Located between rice patties and away from the main street, our camp is more than just an accommodation but a place to relax and enjoy life.
The camp consists of a main villa, two Balinese lumbungs, a private villa and our two villas: Villa Tuju and Villa Baru. The complex looks like a tropical garden, wins your heart with its roof terrace and is equipped with a huge pool. Several chill-out areas invite you to relax and offer space for talking, reading and enjoying life to the fullest. Each one of our different types of accommodation has its own charm. The decision where you want to stay is just a matter of taste!
Three pools and two roof terraces with a wonderful view make up the special treats. Not to forget about our own little Warung that serves local and western-style food from breakfast to dinner.
We're looking forward to your visit & over 60 high quality waves are already waiting!
You're dreaming of a rooftop terrace to enjoy the Balinese sunset? Standing on the roof of the main building you'll have an incredible view over the surrounding rice fields! Our main house has its own small kitchen, a TV room and it can accommodate up to 10 people. Pool, chill-area and other specials are waiting for you. Surf holidays at it's best!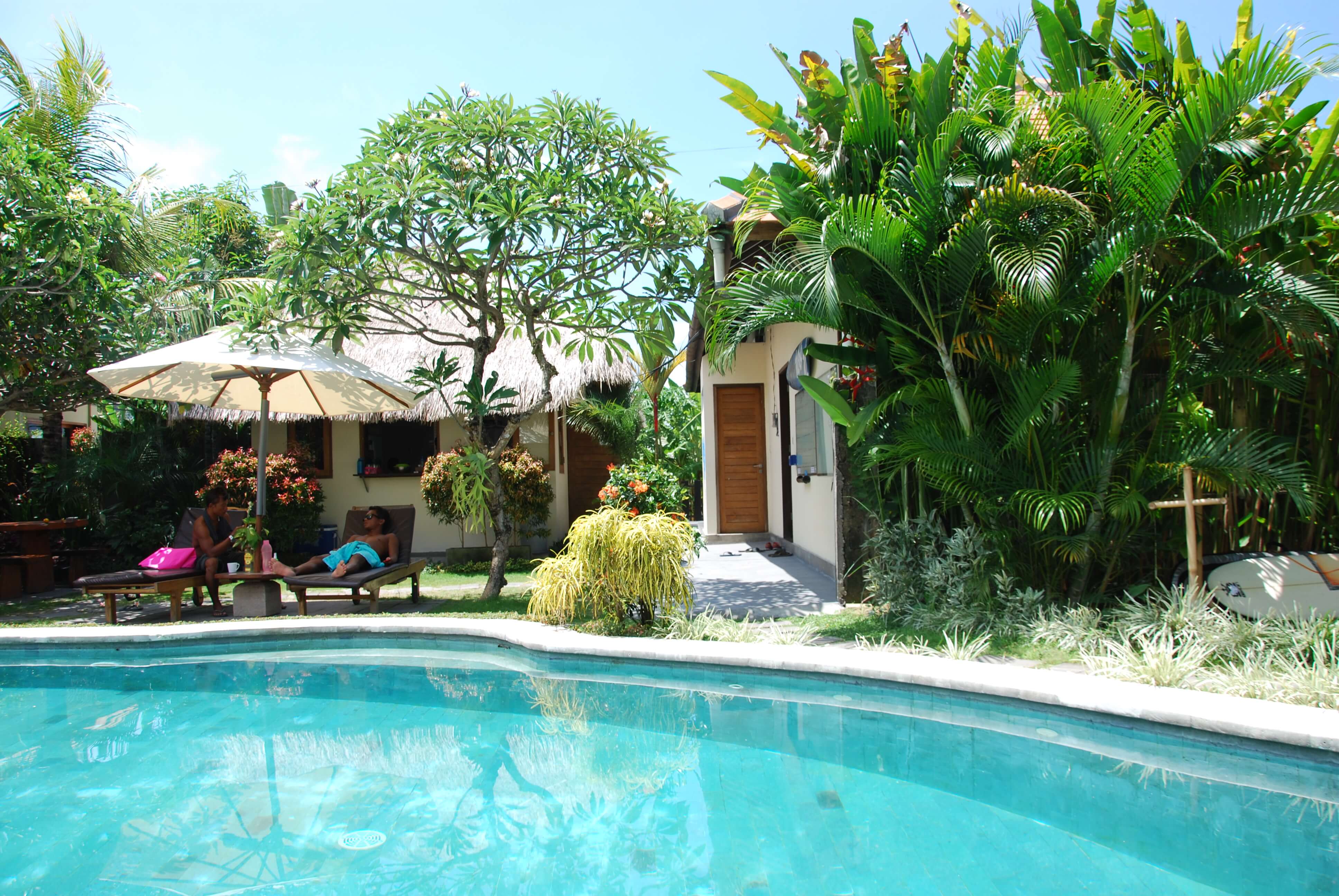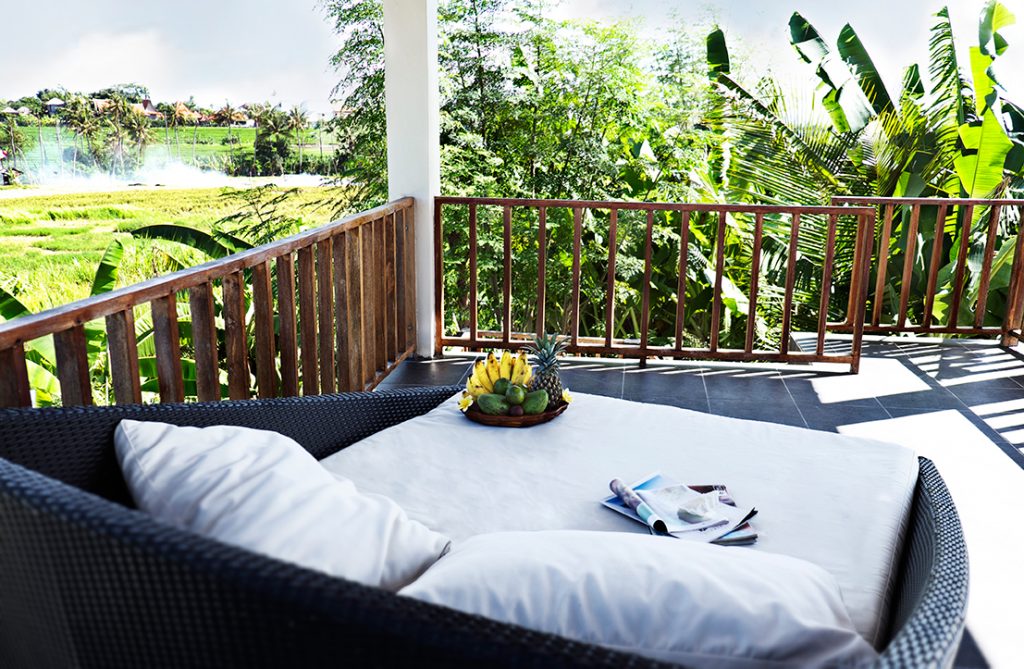 SurfWG Bali: Private Villa
Looking for a bit more luxury and privacy during your surf trip? The villa can accommodate up to 4 people. You're going to love the living room with its flatscreen TV, HiFi and DVD and there is also a private kitchen waiting for you. Our villa also has its own mini-pool – cool, right?
Are you searching for the real Bali feeling – but you don't want to forgo some western comfort? Our two Lumbungs are reflecting the Surf WG mix of traditional Balinese flair and Western standard. Each of the rooms has its own air conditioning system and you can choose between 4- and 2-bed rooms.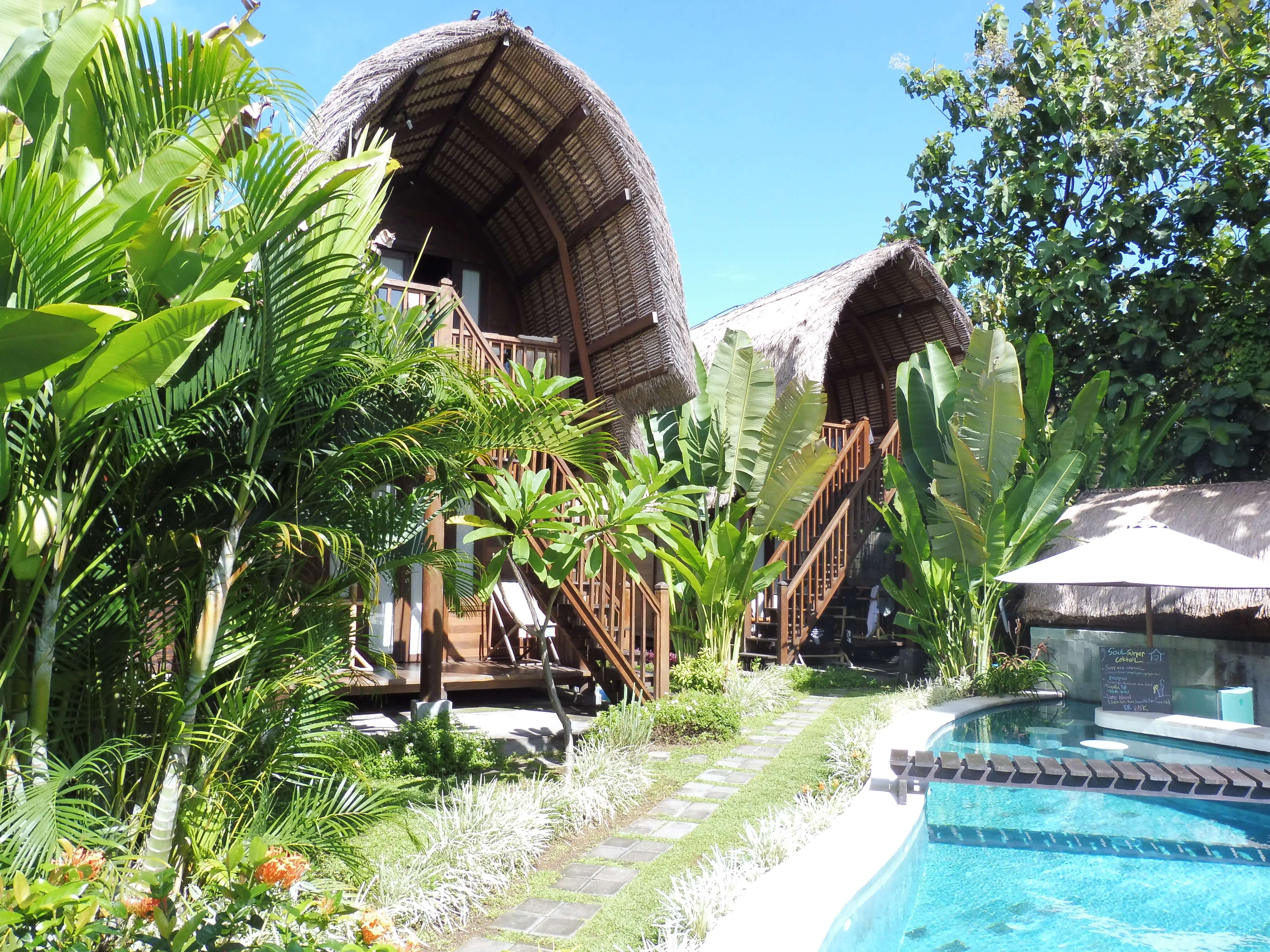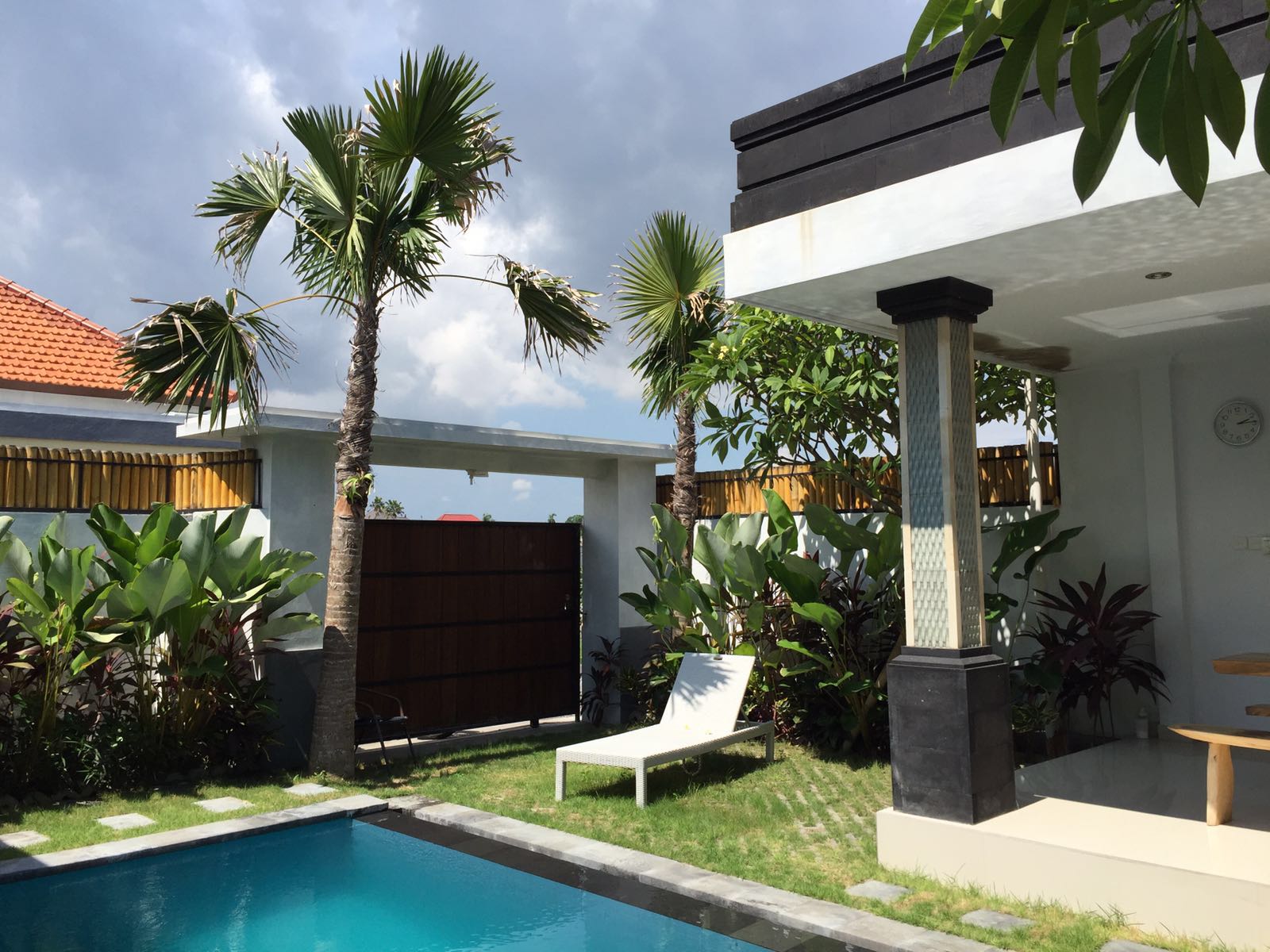 If you are coming with your family, a small group or you are just searching for the ultimate calmness – Villa Tuju is your choice of accommodation. Around 100m away from our main camp, you can enjoy your own shared pool, rooftop terrace and kitchen. Each of the rooms has its own air conditioning system and you can choose between 4- and a double bedroom.
Our newest building is the perfect place for all of those, who are looking for a stay in a private double room or a modern 4-bed bunk room. Villa Baru is located directly next to one of our beautiful rice fields – offering a perfect view during sunrise. You can relax in front of your room, on your own beanbag, or in our small gazebo. Every room comes with a private bathroom and a small terrace-space.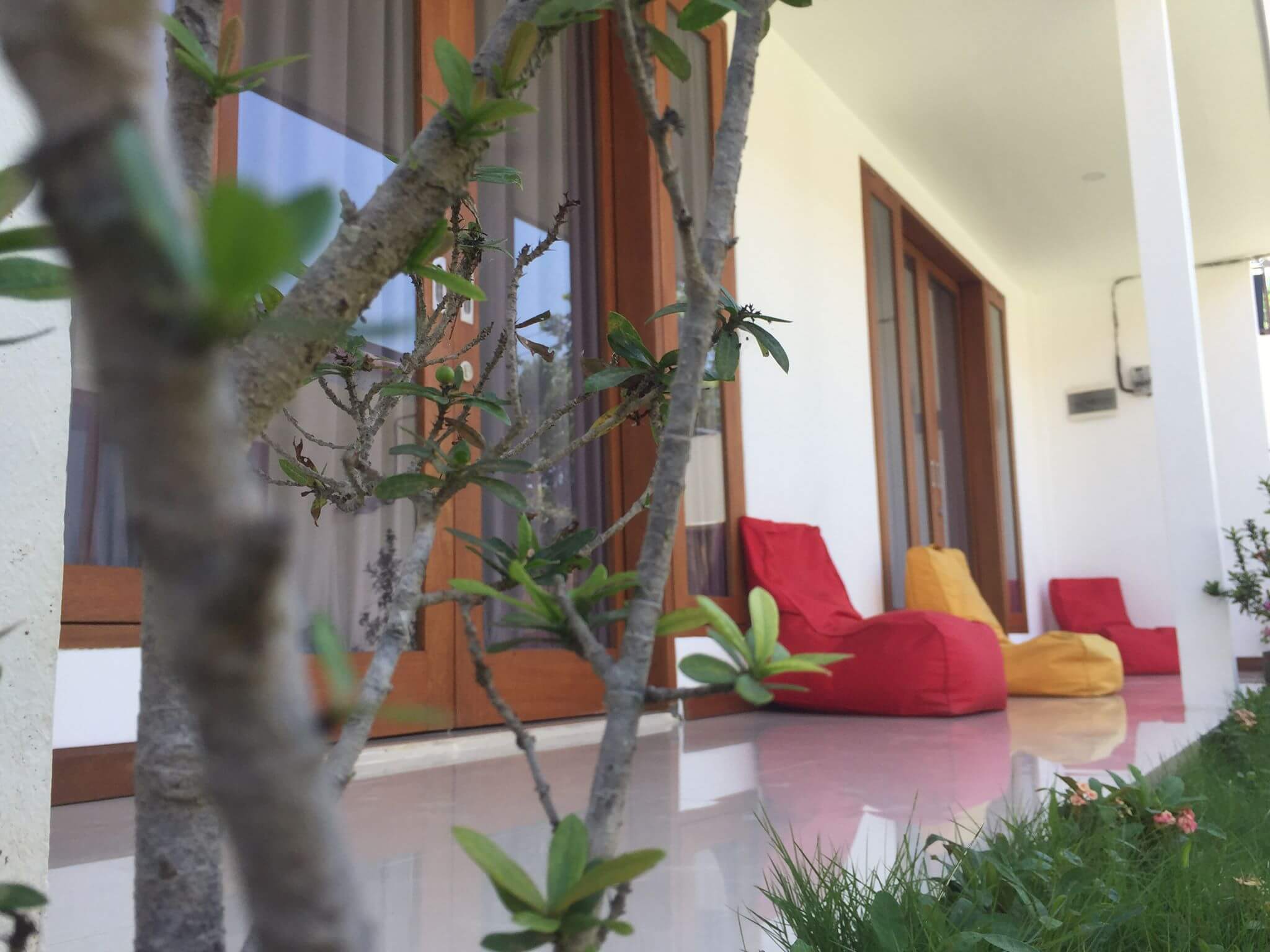 No matter which room you are booking – These Services are always included in the price:
All accommodation with air conditioning
Free airport transfer
Free Wi-Fi
Surf WG Water Bottle
Breakfast
Free: water, coffee and tea
Weekly BBQ with the entire camp (+3€)
Shuttle and transportation service
All about surfing:
2x a day supervised Surfsession (7 days a week)
2x per week surfing theory lessons
2x per week video surf-analysis
2x per week practical theory lessons in the pool
Free use of our camp cars
Free use of our camp-scooter up to 3 hours