WHAT'S GOING ON AT THE CAMP – ANY SPECIALS?
CHECK OUT OUR NEWEST OFFERS!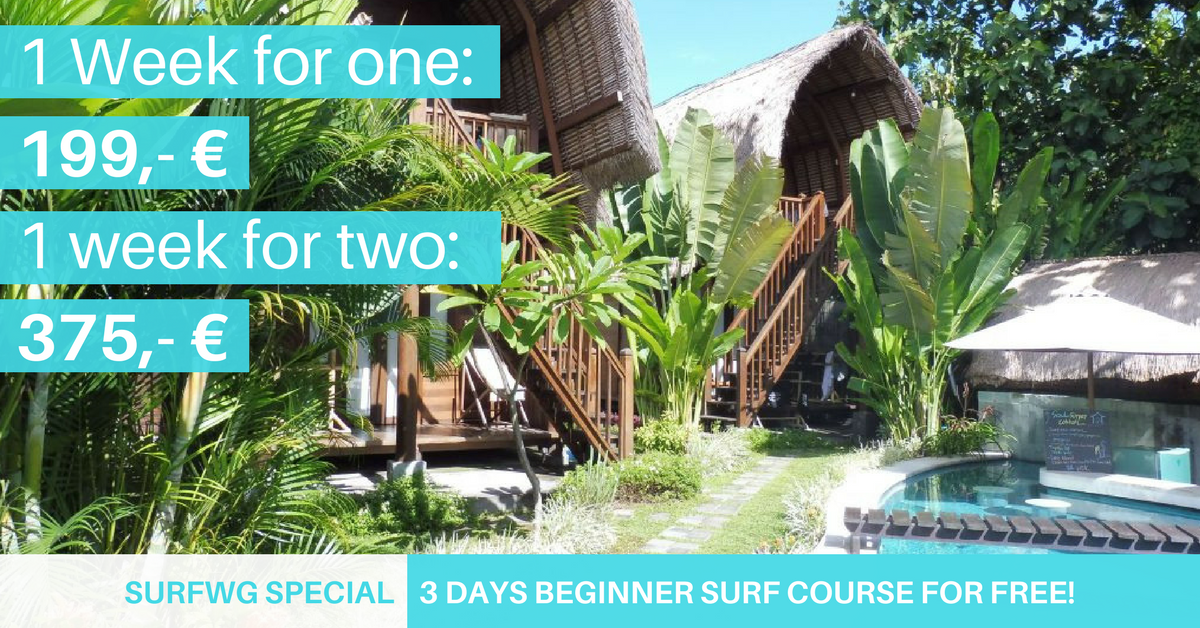 EXTENDED UNTIL 15th OF MARCH!
Sure – we are a surf camp. But when you're here you'll see: we are far more than that. We are your Bali family, willing to make your time at our camp the best time ever!
With this special we wanted to say "thank you".
Thank you, for your trust and smiles, thank you, for all those lovely moments and we are hoping for many more to come!
What's this special all about?
Stay at our surf camp, enjoy the surf guiding 2x a day and join our 3-days beginner surf course (for free). Book and arrive until 15th of march and get this great special deal:
THE SPECIAL PRICE FOR 1 PERSON: 199,- € / WEEK
If you bring a friend and you'll stay here together:
THE SPECIAL PRICE FOR 2 PERSONS: 375,-€ / WEEK
* So if you stay for 9 nights – you'll get a discount of 9%. This goes up to 50% for 50 Nights!
However, our all time special can be combined with our "Returner Special". That means: visit our camp for the fourth time (30% off) and stay here for more than 20 nights – you'll get 50% off of your bill! Sounds great, right?
This all time special can not be combined with our special offers like the "2for1".
Always included in every booking:
All accommodation with air conditioning
Free airport transfer
Free Wi-Fi
Surf WG Water Bottle
Breakfast
Free: water, coffee and tea
Weekly BBQ with the entire camp
All about surfing:
2x a day supervised Surfsession (7 days a week)
2x per week surfing theory lessons
2x per week video surf-analysis
2x per week practical theory lessons in the pool
Free use of our camp cars
Free use of our camp-scooter up to 3 hours
Shuttle and transportation service
That totally convinced you?
Just send us your inquiry and we'll check the availability. If you are curious about the special – just text "SurfWG SPECIAL 2for1" into the message field!