Surfing in Bali for every surf level!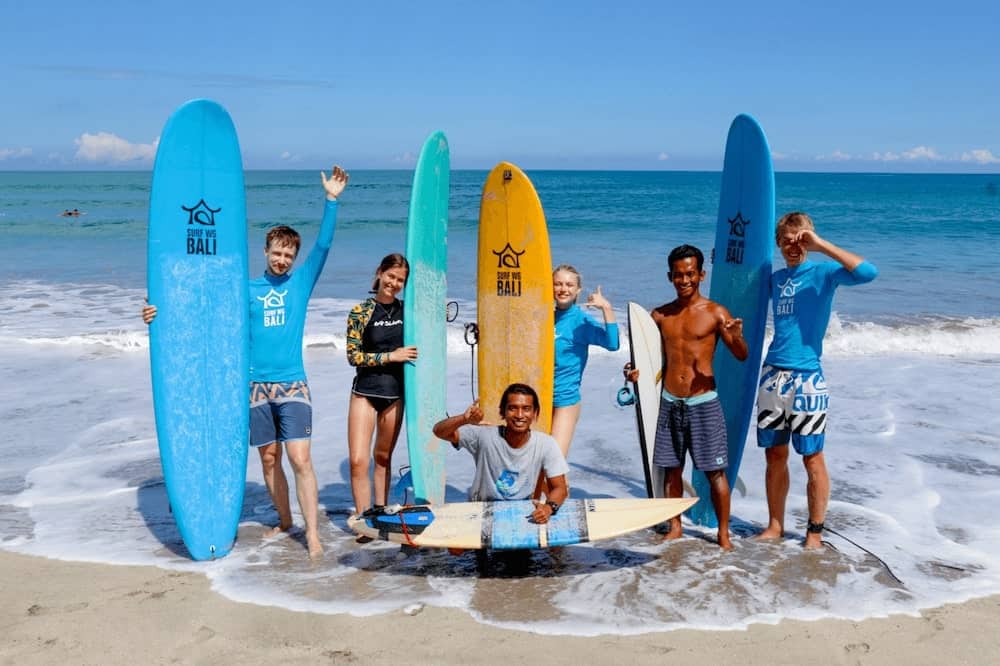 Surfing in Bali for Beginners

You don't have any clue of surfing, but you are fully motivated? That's the spirit!
We offer a special 3 days beginner course for everyone who wants to learn surfing in Bali.
As an absolute novice you should book our Learn-to-Surf package: A three-day intensive training course is waiting for you. You will learn everything: from water conditions to paddling and a nice smooth take-off. Riding the first wave is so much fun and also quite easy to learn on those big beginner soft top boards.
–> RIGHT NOW THE 3-DAYS "LEARN TO SURF PACKAGE" IS FOR FREE!
If you already manage your take-off and paddling, you are of course able to participate in our regular surf sessions. Numerous beach breaks around Kuta offer perfect conditions for beginners, as well as our home break Berawa and the gentle semi-beachbreaks of Batu Bolong and Old Man.
That doesn't tell you anything? Don't worry – we'll show you everything!
Intermediates
For intermediate surfers we're offering a series of soft reef- and semi-reef breaks in the immediate vicinity, in addition to the homebreak Berawa. Perfect waves at long pointbreaks will quickly drive your skills and make you an advanced surfer at the end of your stay. We know all the places and our local guides will share there knowledge with you. Maybe there is a secret wave hidden somewhere near the camp? Our guides will tell you!
Equipment
We have various surf boards in all kind of shapes available. If you don't mind the haul, feel free to bring your own equipment or favorite board with you, so you can put them to the ultimate test here. Board shorts, booties, and wax can be had here at reasonable prices.
Advanced
Advanced surfers will get their money's worth on Bali. The powerful breaks of Canggu – such as Pererenan or Echo Beach – are only a 10 minute drive away and ideally suited to perfect your surfing maneuvers.
We'll also drive you to the world-famous spot-highlights here on Bali. The legendary Airportbreaks, classic Bali Waves like Dreamland and Balangan or world-famous spots like Padang-Padang, Keramas or Uluwatu await you. Just talk to our guides and tell them about your wishes – we'll always have a friendly ear.
Our guides are of course accompanying the advanced surfers – but these sessions are more like a surftrip with friends rather than a student-teacher relationship – so have fun in the water and stay easy!