Daily surf sessions with our Bali Surfguides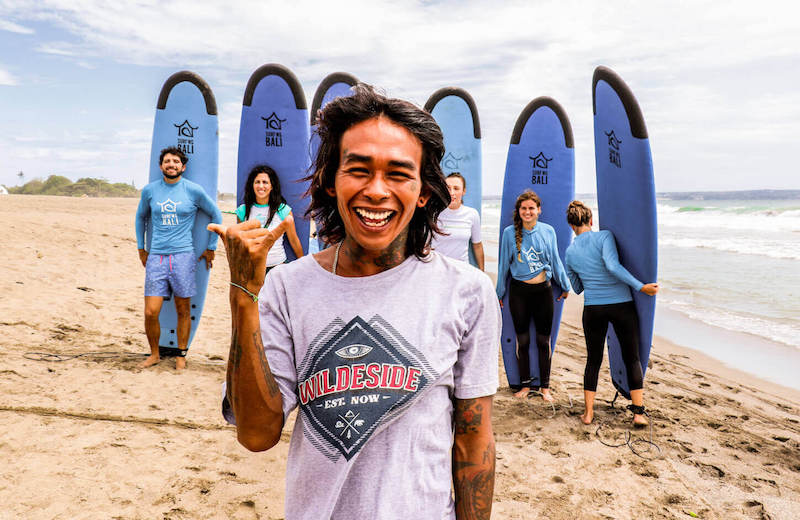 SurfWG Bali Surf camp: surf guiding 7 days a week

Twice a day our local surf guides take you on a surf trip around the island. This way, you'll get to know all those beautiful surf spots around Bali. Leaving early morning to catch the best waves and coming back for breakfast (included in our prices), before going to the water for a second time, is just the best way of spending your surfing holidays in Bali!
Depending on tides, swell and wind conditions, the surf spots are selected one day in advance, by our experienced surf guides. You will be reminded to sign in your name on our session board and we will assist you by finding the most suitable aurf spot for your level of surf skills.
You will always be accompanied by our surf guides and surf together with a small group of maximum six people. Our guides are from Bali and know the island, drive safely and will give you a competent spot-instruction. There is always someone in the water with you. You'll get all the support to uplift your surfing to the next level.
Caution: We are filming!

In order to improve your surfing even faster, different surf sessions are filmed every day by our camera man. You can check the session board if you wanna know which session the camera will be filming each day.
Twice a week a professional video analysis takes place at the surf camp. This video analysis is held by one of our surf guides and helps you to recognize mistakes and improve your surfing skills.
We really want you to become the best possible surfer – full of passion and joy.
Everything you got to do is grab your surfboard and surf – we'll take care of everything else!
Surfguiding in Bali: the daily routine
You chose your favorite surf session the evening before going there. Just sign in your name at our session-board. Our surf guides will be happy to advise you! Through this system, you can chose between 10 different spots every day, and you can get to know a lot of different places and surf spots.
Even for beginners there's a lot to discover – Bali offers more than 60 surf spots!