Our surf camp in Canggu/ Berawa Bali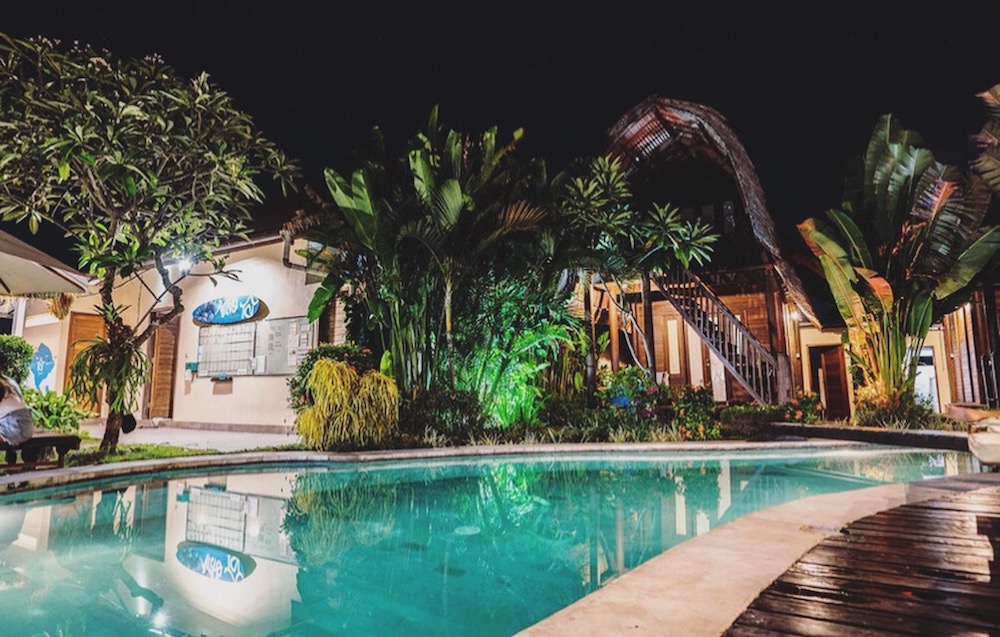 The SurfWG Bali: No°1 Surf Camp in Canggu Bali

The SurfWG is located amidst rice fields in the small village of Berawa, next to famous Canggu. A lovingly maintained campsite with tropical gardens and a stunning mix of Balinese and Western architecture – you will simply love it.
Compared to many others surf camps in Canggu, SurfWG is super cozy and has that special "I-am-home-feeling". Our goal is to make each guest feel welcome. We won't accommodate 100 people, but a maximum of 37.
If you need time for yourself – no worries! The surf camp offers enough space to do so. Just be yourself and relax or get to know the other guests.  It's up to you! The huge pool in the middle of the camp is our famous gathering-point and also center of most of the camp-parties. Everything perfectly fits into SurfWGs tropical garden – that's Bali feeling at it's best in the middle of Canggu.
SurfWG Bali Surf camp in Canggu
In the beginning, our camp was just a crazy idea of two surfers – until it became true! We met each other during a surf-stay and joked about having our own surf camp in Bali.
Over the time our vision grew and went from joking to serious busines talk: We wanted to create a place where surfers could come together, relax and enjoy life. And of course: rock the waves!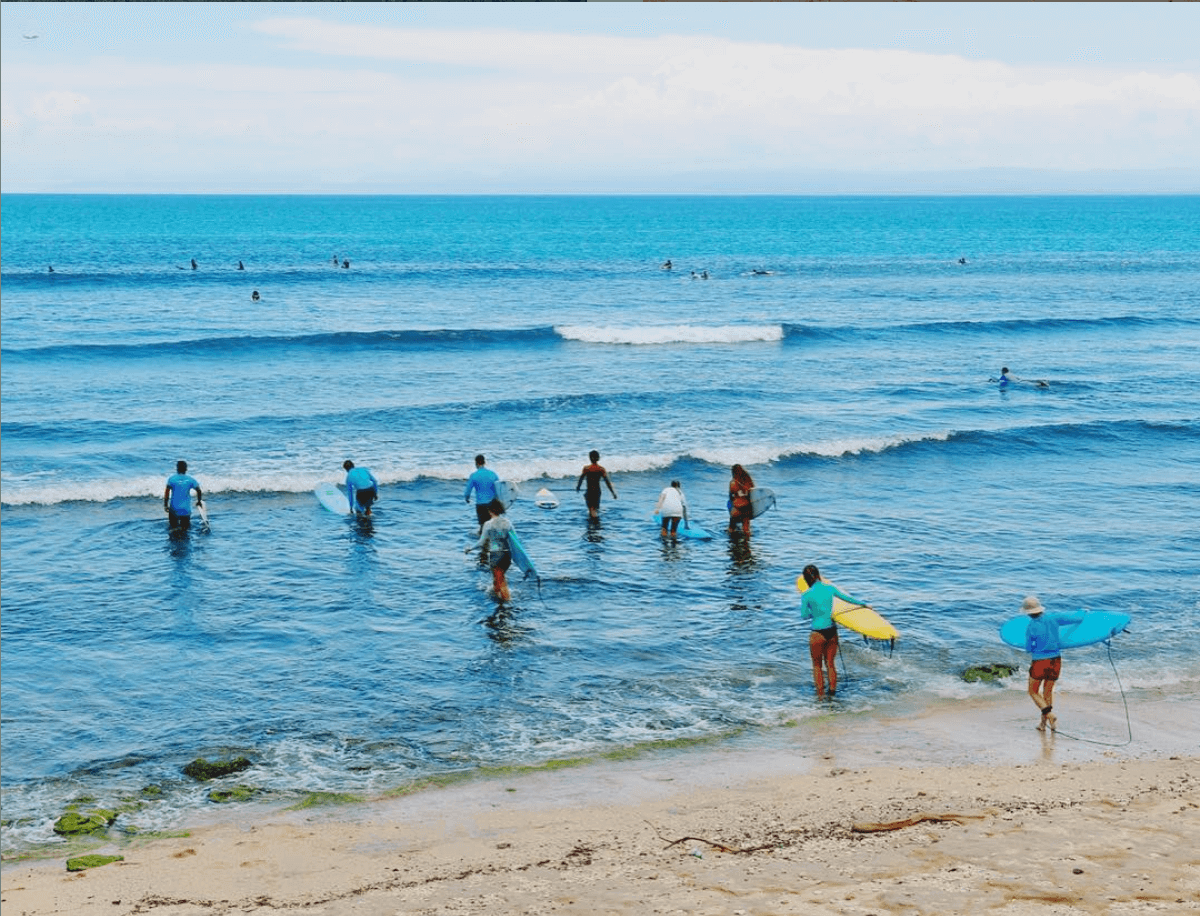 From WG to an actual Surf Camp in Bali
So in the end, we started really small – we didn't want it to become a "standard" surf camp in Bali with over 100 guests. Our vision was to built a space with heart – a place people would call their second home.
The SurfWG surf camp Bali was born. "WG" in german is a short-term of "Wohngemeinschaft", which means "Living together".  And that's what it actually became: a place to feel home and stay easy.
From the beginning until now, the SurfWG has been a Swiss-German-Balinese surf camp company. Together with our Balinese Staff we created a unique get-away in the middle of Bali.
Bali – Island of the gods

On the tropical island of Bali you'll have 28 degrees – all year long. The ocean is as warm as the air! Impressive landscapes, rice terraces and the magical cultural landscape of Bali will quickly fascinate you. For surfers, Bali is THE paradise – incredible wave diversity and surf spots for every surfing level!
Our surf camp in Canggu is the perfect place to relax, learn how to surf and go out and have some fun in the wild nights of canggu!
Enjoy Bali – Enjoy Canggu

This island offers so many beautiful temples, magic and beaches! Make sure you won't miss hanging out in our lounge area as well. Enjoy some tropical juices, coconuts or beers – chill, chat and have a good time. Our professional guides are helping you out with every question you might have. We offer a "learn to surf" course for free – for all of you who never surfed before: this is the way to start your surfing journey!
Our staff is looking forward to meet and help you to an unforgettable surfing experience!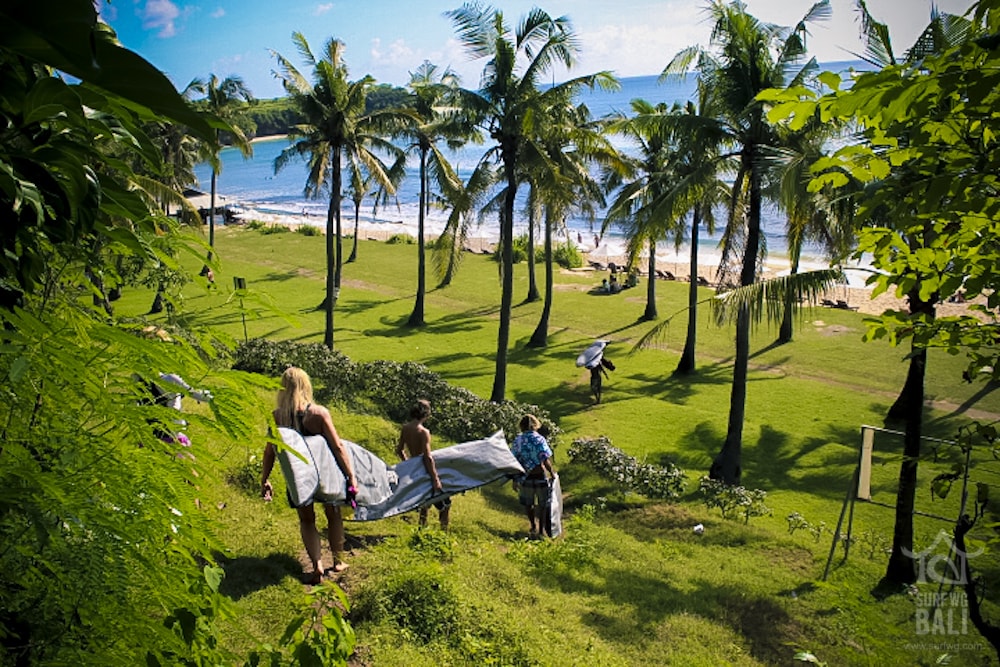 Feel Home – Stay easy!
The SurfWG surfcamp in Bali is waiting for you – and quite honestly: No one else got an amazing roof terrace like we do!
You wanna know what other websites are writing about us?
Please check out the website surfcamp-online.com for more pictures of our lovely SurfWG and a nice summary.
You have already been a guest at our surf camp?
Please give us an honest review here.