Learn to surf in Bali

With our professional 3 days beginner course

NO ADDITIONAL COSTS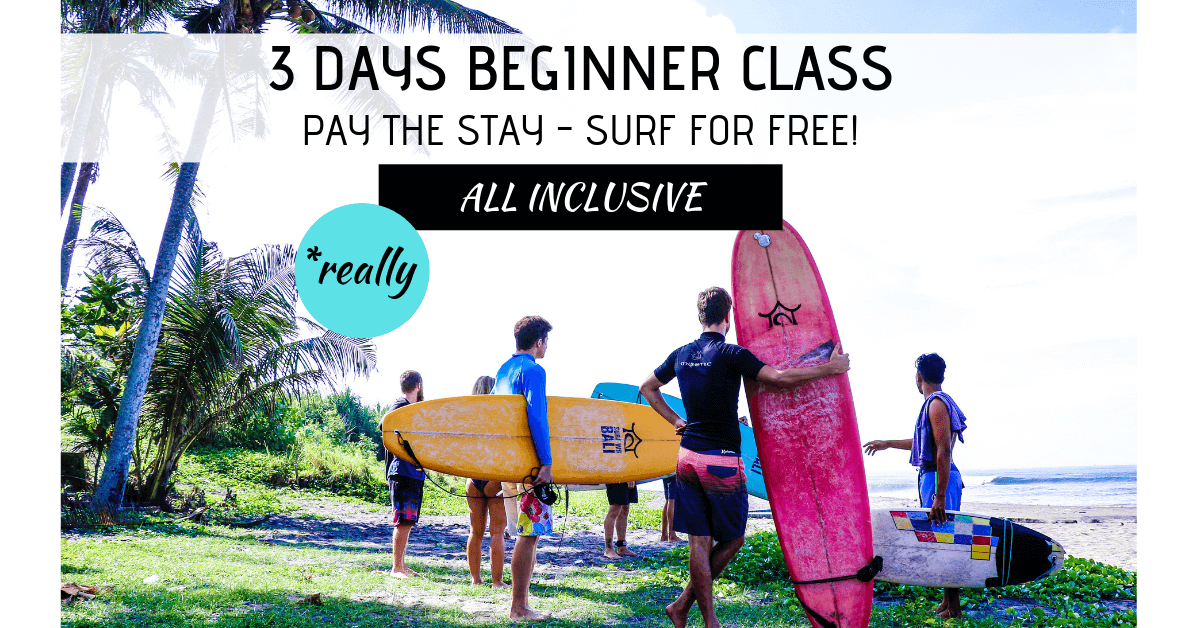 Surf course for free!
Book now, and you'll get a BEGINNERS "LEARN TO SURF BALI" PACKAGE for free!
That's cool – what's included?
GET YOUR 3-DAYS "LEARN TO SURF BALI" PACKAGE FOR 0€!
This SPECIAL includes:
Free transfer to the spots
Surfboards and material included
Surfboard insurance incl.
3-day beginner surf course with theory and practice
A lot of fun and a life-long Surfaddiction
Who is this course for?
For every beginner who wants to learn the art of surfing right from the start. But also for those guests, who may already tried surfing once, but still feel a little unsafe and would like to start again from the beginning.
You have a partner who has never been in the waves? We'll teach it to your friend / girlfriend as you go surfing at the spots matching your surfskills.
Less mistakes – more fun!
We all know: surfing can be quite difficult! Once wrong learned, it is really difficult to get rid of false routines later. That's why we offer this course – we want you to have fun in the water and learn to love surfing!
In our beginners course you will learn all basics like the take-off, turtle-roll, waves and the right behavior in the water. And, of course, the big goal is to stay on your your board and surf towards the beach!
Let's go!
So don't worry, go for a booking now and send us a message concerning the beginner course – have fun, we are looking forward to seeing you.