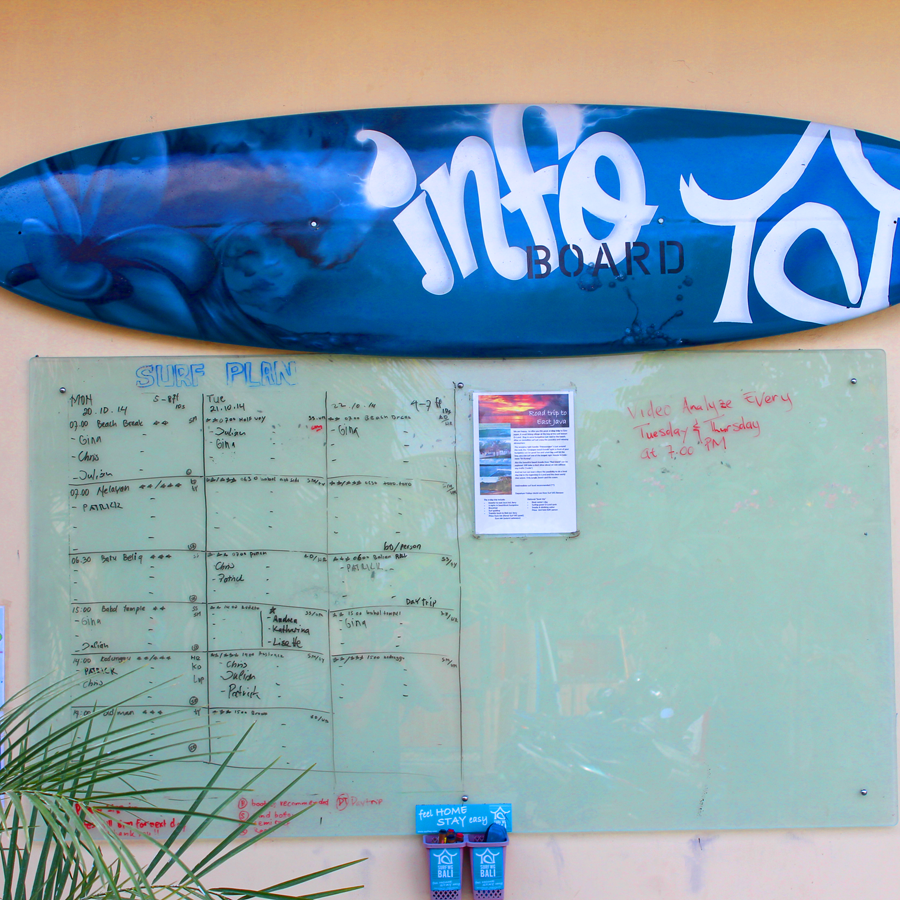 Daily surf trips for all levels
Monday until friday,  we organise daily surf trips for all surf levels to various breaks all round Bali. What this means is that you can take part in at least two guided surf session per week- day. The surf spots we head for are graded according to the various surf levels and selected depending on the tide, swell and wind conditions.
Our surf guides are familiar with the island, drive safely and give you competent briefing on each surf spot. The guides always surf with you in the water, giving you helpful advice to bring your surfing to the next level. Every day selected sessions are filmed so that the analysis which takes place 2 times every week afterwards can help you identify the mistakes you're making and sort these out.
Daily proceeds
On the evening before choose the surf sessions that suit you best – depending on your preferences and skills and simply enter your name in the list. Our surf guides will be pleased to help you make your choice.
Beginners
Total surf beginners can book our Learn-to-Surf Package which includes 3 days of intensive beginner class with beginner friendly soft-top surf boards. Please find more information about the Learn-to-Surf Package in our section "specials". (link zu Specials)
Who rules the take-off and paddling already can directly participate in our regular surf guiding. Perfect conditions for beginners provide the numerous beach breaks of Kuta, the "home break" Berawa and the gentle semi-beach breaks of Batu Bolong and Old Man's.
Intermediates
Beside of Berawa Beach, Bali offers a whole series of soft reef breaks and semi-beach breaks for intermediate surfers. Many perfect waves nearby or famous spots a bit further away will push your skills and maybe even make you an advanced surfer by the end of your stay.
Advanced
Of course it is also the advanced surfers that really get their money's worth on Bali. The powerful reef breaks of Canggu, e.g. Perenenan or Echo Beach are reachable within a 10 minutes car ride only and are best-suitable to bring your surf maneuvers to perfection. Further wave highlights all round Bali are on our schedule as well: the legendary Airport breaks, the classic Bali waves such as Dreamland and Balangan or the world famous spots like Padang-Padang, Keramas or Uluwatu. Please calculate a car ride of minimum 50 minutes to reach this surf spots